A 22-year-old Huntington Park man who was caught on v

ideo

repeatedly striking his 2 year old German Shepherd, "Sam" in the head, pled guilty today to animal cruelty charges.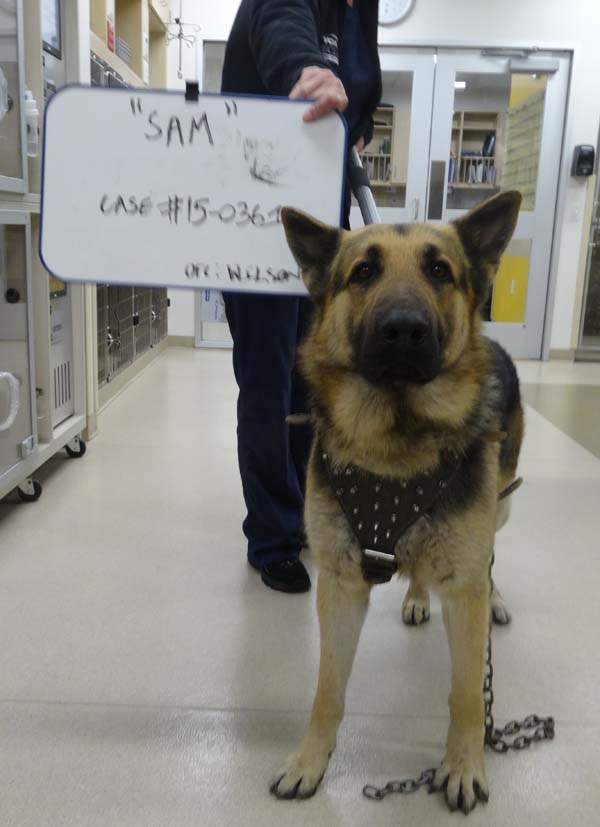 2 year old German Shepherd, Sam
Victor Almendariz (DOB: 06-19-1992) was convicted on one count misdemeano r animal cruelty in case #5FF00619 before Judge Gustavo Sztraicher at the Metropolitan Court House. Deputy District Attorney Kelly Sakir prosecuted the case. Charges were brought against Mr. Almendariz as a result of an animal cruelty investigation by Society for the Prevention of Cruelty to Animals Los Angeles (spcaLA).
Video

shot by an anonymous tipster was sent to spcaLA Humane Officers in January of 2015. Upon investigation of Mr. Almendariz, three German Shepherds including Sam were found, removed, and brought to spcaLA for medical care.
Mr. Almendariz was sentenced to 500 hours of community labor; 5 years probation; Level II animal abuse counseling (48 week program); and m ay own no animals for five years. Mr. Alemndariz must also undergo a psychological evaluation and pay restitution. As a condition of probation, he waived his 4th amendment right and is subject to search and seizure at all times. Any violation of these terms of probation could result in 180 days jail time.
Click here for video.
Since 1877, spcaLA has been the premiere independen t, nonprofit animal welfare organization serving Southern California. There is no national SPCA, parent organization, or umbrella group that provides financial support to spcaLA. Donations run programs and services including Cruelty Investigation, Disaster Animal Response Team, Humane Education, and a variety of shelter services.